Ornamental growers can earn substantial rebates under SePRO's Pinnacle Program when purchasing a minimum of $2,500 of SePRO miticides, insecticides, fungicides, growth regulators, and aquatic solutions.
Earn additional rebates as your total purchase value increases.
The Pinnacle Program Rebates will effectively lower the net cost of these products and provide substantial savings the more you purchase.
The SePRO Ornamental Program offers 3 simple ways to maximize your savings:
Integrate SePRO's complete portfolio of insecticides, fungicides and PGRs. Increase your rebate by purchasing at least one unit of each SePRO's unique brands. Refer to the program table for qualifying rebate levels.
Integrate Obtego® Fungicide and Plant Symbiont. Earn an additional 2% by purchasing at least 10 lbs of Obtego.
Integrate more. Earn an additional 2% when you purchase $15,000 or more.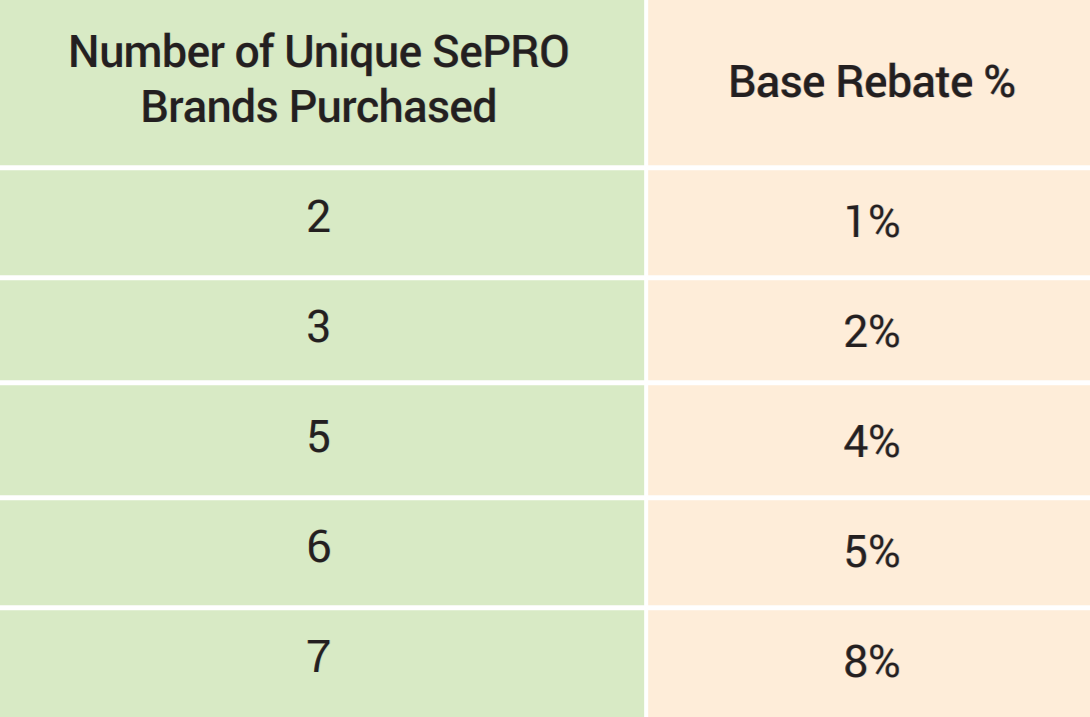 NO RETURNS. All sales are FINAL. Program applies to qualified end-user professionals. Cannot be combined with any other orders. Not valid for distributors, agents, dealers and any other resale entity. Aquatic Solutions program is not guaranteed for greenhouse/nursery settings. All listed prices are adjusted to include CA Mill Tax Assessment. Purchase totals and rebate amounts will be calculated based on 2020 – 2021 SePRO listed prices and sales reported by authorized SePRO distributors, excluding any taxes and fees that may be assessed. Camelot, Topflor and Topflor Granular are registered trademarks of SePRO Corporation. Akari, Talus, Hachi-Hachi and Rycar are registered trademarks of Nichino America, Inc. Decree is a registered trademark of Arysta Corporation. Ornazin is a registered trademark of AMVAC Chemical Corporation. Always read and follow label directions. SePRO reserves the right to cancel or modify this program at any time.